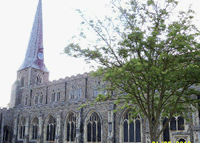 Hadleigh in Suffolk is a small market town sited on the River Brett. A beautiful medieval village, the Guildhall dates back to the 15th century while St Mary's Church (shown), which is built of flint & freestone and is one of the largest in the country, dates from the 13th century.
Hadleigh received its market charter in 1252,  From the medieval period until the 17th century woollen-cloth was produced here which made Hadleigh one of the wealthiest towns in the country. Many of the houses built during this period can still be seen in the main streets.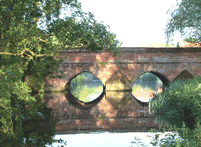 If you are looking to explore Hadleigh and the surrounding Suffolk countryside then the Ivytree Bed and Breakfast in The Haven is the perfect base.  The Haven which overlooks the valley in which the River Brett lies and  Toppesfield Bridge (shown) forms part of the riverside walk.
Ivytree is in a quiet rural setting on the outskirts of Hadleigh overlooking the beautiful Brett Valley. There is a large garden with spectacular views which guests are welcome to use.
To find out more about Ivytree B&B: