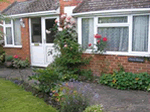 Farnham in Surrey will surprise you! Although it is just an hours drive from London, once you turn in to Farnham you are entering a different world. It is an old English market town with narrow streets lined with some of the finest Georgian architecture in the South East of England with a parish church and castle dating back to the 12th Century.
Farnham has a host of attractions for visitors, and its historic character combines with the best of modern facilities.
With a wealth of tempting opportunities for escaping to the countryside, shopping, eating out, sightseeing, visiting galleries or just sitting in gardens and flower filled yards soaking up the enchanting atmosphere.
If you spend some time walking around the town, especially near the parish church, St Andrews, and the small streets off the main shopping streets, you will find some beautiful buildings with great character.
Farnham – stay at Dove House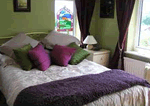 Dove House in Farnham specialise in fresh wholefoods, with home made bread and good quality ingredients for  breakfasts. There is always fresh fruit, yoghurt, juice and a choice of cereals, as well as a choice of cooked breakfasts.
Dove House offers two bedrooms – the Lavender room is a single room, and the Olive Room is a double room with a double bed. This room has great views over farmland and hills. They are both attractively decorated and comfortable, with plenty of wardrobe space and storage space for clothes. They have tea/coffee making facilities, with a selection of teas and coffees and home made biscuits. There is a hairdryer and iron and ironing board available for guests.
Broadband Internet access is available to guests at no extra charge.
Dove House is not far from Farnham town centre – about a 10-15 minute walk. Farnham has a good choice of restaurants and pubs where you can get an evening meal, or Ros can provide an evening meal by prior arrangement.
Dove House is ideal for people who are on business, or on courses locally, visiting family and friends, or party and wedding guests, or those just wanting a holiday break to visit the area.
Find out more about Dove House in Farnham: