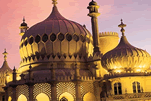 Brighton on the south coast of England has so much to offer whether you are looking for a short break or a longer holiday.  A wonderfully vibrant and colourful cities that manages to be Cosmopolitan, compact, energetic, unique, fun, lively, historic, young, exotic and free-spirited… all at the same time!
Just 50 miles from London and nestling between the South Downs & the sea on the stunning Sussex south coast, Brighton offers everything from Regency heritage to beachfront cool.
If you are thinking culture and Regency heritage check out the Royal Pavilion (the seaside palace of Prince Regent – George IV), the famous shopping 'Laines' and the spectacular Regency sea front promenade.  If you are looking for a mediterranean feel, head for the Brighton Marina that has a huge range of bars and restaurants along the boardwalk.  If you are just looking to chill out and relax try the beach, pier or one of the cities many parks.
Brighton also has a thriving nightlife with clubs and pubs in the town – a particular favourite for wedding hen and stag parties.  For more cultured entertainment there are great venues including the Theatre Royal, Brighton Dome and the Brighton Centre.  There are also cinema in the city centre and at the Marina.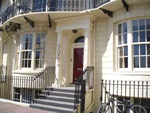 If you are looking for accommodation in Brighton, East Sussex check out George IV which is a delightful eight-bedroom guesthouse.  Situated in one of the best settings in Brighton, on a lovely square looking down to the sea. The spacious sea-facing rooms offer incredible views, while the stunning balcony room has a wow factor like no other wow factor. All the rooms are spotlessly clean and beautifully decorated, and the vibe is relaxed.