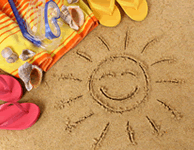 For many of us, the Isle of Wight encapsulates the great British seaside holiday…. ice creams, sandy beaches and family fun. So if you are heading to the Isle of Wight for your holidays you will find the main resorts on the east side of island, including:
Sandown and Shanklin. Two of the island's eastern resorts that offer sandy beaches and are holiday maker favourites. The Sandown resort has plenty going on with nightly entertainment in the summer, a pleasure pier with amusements (the only one on the island) and the Isle of Wight zoo. Shanklin, just across the Sandown Bay, has a wonderfully pretty Old Village with thatched cottages and delightful tea rooms. And, a must see is Shanklin Chine, a winding pathway around a wooded coastal ravine containing waterfalls, trees and lush vegetation.
Ventnor. Considered as one of the sunnier spots on the Isle of Wight, Ventnor and its suburbs of Bonchurch and St Lawrence is built on the slopes of St Boniface Down which is the island's highest point. You can have a pleasant stroll beside the bay and beach along Ventnor's esplanade at the end of which you will also find the popular Botanical Gardens.
Ryde. Located in the north east of the Isle of Wight, Ryde is the largest of all the towns on the island. With mile upon mile of sandy beaches and a pier, the Victorian town is popular with tourists.
There is a great selection of Isle of Wight Hotels and guest house accommodation to choose from as well as some great campsites and holiday parks, but please note that accommodation books up quickly around the main Isle of Wight festivals and Cowes Week in August.