Posted by
B&B Blogger

| Posted in B&B, Hotel | Posted on 15-09-2011
Sheffield, it seems, will forever be thought of as the UK's steel city. At its peak it was at the forefront of the World's steel production and a technological leader – there was barely a home in Britain with out Sheffield stainless steel cutlery.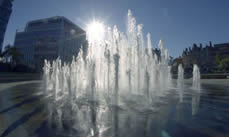 Sadly, when this industry went in to decline in the 1980's it was like the heart was ripped out of the City and it took many years for Sheffield to recover. However, Sheffield has experienced a re-generation that makes this City proud once again and definitely worth a visit.
The revival and regeneration has focussed on creating impressive architectural projects, gardens and buildings across the City. Of course, the spirit of the steel and industrial heritage can still be seen throughout the City and of course reflected in the many museums.
If you are heading to South Yorkshire then there are a good selection of Hotels in Sheffield, as well as guest houses and B&B's to choose from. Many are within walking distance of the popular Winter Gardens and the Millennium Galleries.
For snooker fans, Sheffield simply means the Crucible, home to the World Championships for the last 30 plus years. Of course when not a snooker venue, the Crucible is a theatre which hosts among other things the annual Music in the Round festival of chamber music in May.
Sheffield also has a thriving café and restaurant scene which offer a good value lunch and night out, as well as clubs and bars you would expect in Yorkshire's second city.