The Pembrokeshire Coast is uniquely a British National Park that is predominantly sea based.  Formed back in 1952, the Pembrokeshire National Park is uusual in that is less of a clearly defined Park rather than a stretch of coastline on the western edge of Wales.  At its heart is the Pembrokeshire Coastal Path which is 186 miles of glorious cliff top views.
The most popular stretch of the path is from the Castle at Manorbier to the cliff chapel at Bosherston on the southern stretch but you will find wonders, great craggy scenery throughout your route.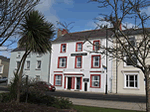 If you are looking for a good base in Pembrokeshire, South Wales then check out Belhave House Hotel in Milford Haven.  You will be following in some famous footsteps as celebrities to have stayed their include Lord Dennis Healey (former Chancellor), Liz Dawn(Vera Duckworth), Sir Robin Knox-Johnston (solo-circumnavigator), Sian Phillips ( I, Claudius), Humphrey Lyttelton & his Band.
There is also a bit of history to Belhaven…
Milford Haven was built as a Whaling Station for the fleet of Quaker(American) Whalers that plied the Antarctic oceans.  To escape heavy taxes, they moved from Nantucket,USA to Newfoundland, Canada and on to Milford. So these houses, built to their plans, are of Canadian design, and the almost exact originals can be seen in St.Johns. The arch above, seen throughout Pembrokeshire, is a Canadian arch.
This move was to place them close to London, the richest market in the world, for their whitest of white candles, made from the whale oil. This house belonged to the surgeon to the Whaling fleet. It is some measure of his wealth & standing that he could afford to live in the same street as the shipowners.