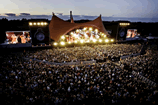 The U.K. holidays market is well geared up for long weekends and short breaks. It is usually possible to get a booking for the accommodation that you require for just a few days, without having to take the whole week, and this is particularly true of U.K. holidays accommodation like B & Bs, and the holiday parks run by operators like Park Resorts. Long weekends can of course be economical in terms of annual leave, especially when there is a bank holiday thrown in, and provide a welcome break that doesn't require major planning.
Over the last decade or so, there has been a massive increase in the number of festivals running in the U.K, particularly in the summer months, and these often present the perfect opportunity for a memorable long weekend. The large music festivals like Glastonbury and Reading have of course been established for years, but have now been joined by an ever increasing number of smaller, specialist festivals throughout Britain.
You can now find small festivals that focus on a range of music and other arts, from folk, jazz and blues, to boutique affairs that present a range of music and art like the larger festivals, but in a more intimate atmosphere. Dedicated dance music festivals present the opportunity for the sleepless variety of long weekend, while real ale and beer festivals can pretty much guarantee that you'll get several sound sleeps during your time away!

For those that are keen to take part in leisure activities that are also positively good for the health, activity breaks can also make the long weekend an event to remember. While you have to have a certain kind of iron constitution to get into the water for activities like surfing off the coast of Britain, there are plenty of well established dry land activities like cycling and bouldering that can raise the heart rate and provide some adrenalin packed thrills. We are thankfully blessed in the U.K. with many well organised and suitably certified operators who can provide instruction, equipment and a proper safety regime for those wishing to try new adventure sports. The only thing that can't be guaranteed if avoiding the rain!
For those that prefer luxury to getting sweaty, a long weekend focusing on a tour of gastronomic treats can be just what the doctor ordered, in a figurative sense. Courtesy of the food revolution, there are now many top quality restaurants throughout the U.K, many focussing o serving up the best of British produce, such as the world class seafood found around many coastal areas, and in particular, off the coast of Scotland.