As every car sign tells you as soon as you on the approach the county, Warwickshire is Shakespeare Country. So not surprisingly, therefore Warwickshire visitors flock in their thousands to Stratford-upon-Avon to visit the various Shakespeare sites including the Birthplace Museum (visitor centre and museum), Holy Trinity Church (where Shakespeare is buried) and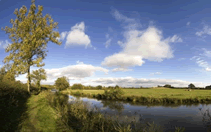 the various theatres.
Stratford itself is actually quite an unassuming market town although a lot of it is now given over to the tourist trade.  However, don't let the tourism stop you exploring the quaint streets, just try to avoid the middle of the day when it is most crowded!
Theatre in Stratford-upon-Avon
Of course, while in Stratford-upon-Avon you should see some theatre and The Royal Shakespeare Company really does offer superb quality theatre.  The RSC work on a reportory system so if you are staying a few days in the area you will be able to see many different plays and they not neccessarily all Shakespeare plays.
Anne Hathaway's cottage and Mary Arden's House
Although not in the heart of Stratford, but still worth a visit are Anne Hathaway's cottage at Shottery and Mary Arden's House at Wilmcote.  Anne Hathaway's cottage was her home before she married Shakespeare and is well preserved farmhouse which is still furnished as it would have been in 1852.  Mary Arden was Shakespeares mother and the house she inherited as an unmarried mother is a great example of an Elizabethan farmhouse and provides a fascinating view of family life in this period.
Food and accommodation in Stratford-upon-Avon
Stratford-upon-Avon is at the heart of England and is easily reached by air (nearest airport Birmingham International), road (M40), train (trains direct from London) and bus/coach. Being a popular tourist destination means that is well served in pubs, cafes, bar and restaurants.  In terms of accommodation, there are a great selection of B&B's and guest houses that offer good value for over night stays and short breaks.  See a selection of B&B's in Stratford-upon-Avon.
Beyond Stratford-upon-Avon
There is plenty to explore in Warwickshire beyond Stratford-upon-Avon and Shakespeare.  Our favourite is Warwick, just 8 miles away, and in particular the fabulous Warwick Castle.  Often considered the best medieval castles in Britain, Warwick Castle is an impressive site and in excellent condition… although historians will point out that it has been aided by 'work' during the 19th Century.
There is also some wonderful countryside and waterways to explore in Warwickshire once you get away from the towns and off the beaten track.